SECOND DISPLACEMENT -- ST. DIE
16 July through 23 August 1918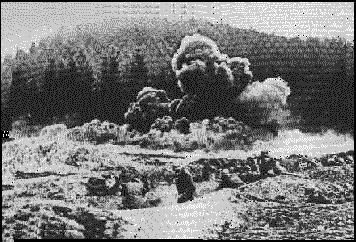 The lines of the St. Die Sectorhad been stable since 1915. Deep trenches with the land between the trenches (No Manís Land) controlled by the Germans. Due to their occupation of the highest ground in the sector, the peak of Ortomont, the Germans were able to place artillery fire on all portions of the front. Initiating a campaign of heavy patrolling the Infantry units of the 5th Division quickly took command of No Manís Land.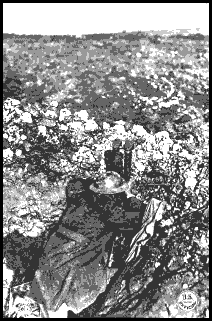 (RIGHT)Pvt Fred Rambus, Company E, US 61st Infantry, 5th Division, peering through German trench periscope, 1918.
Snipers of the 61st Regiment were effective in stopping movement of German troops during daylight hours. On the 17th of August the division initiated a large scale attack on the town of Frapelle. In the third wave of the attack, the 61st Regiment took heavy casualties from artillery firing gas and from the German counterattack on the 18th. Using rifle fire, machine-guns and artillery the counterattack was broken up and the entire Fave Valley was secured. Division casualties totaled 16% of the troops engaged. Although the operation was only a one division battle it was important for morale in that it was the first advance in this sector for three years. Starting on the 23rd of August the Division moved off the line and into Arches for additional training and replacements. On the 28th the Division moved to Neuvillers-sur-Moselle, near Luneville. On the 6th of September the Division began a forced march, moving only at night, to their new sector, St. Mihiel.