FIRST DISPLACEMENT -- ANOULD

11 June through 15 July 1918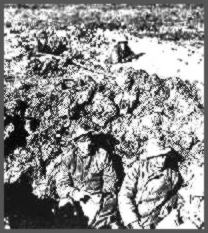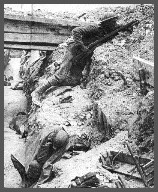 (LEFT) Lt. Oakley Parkhill and First Sgt. Robert H. Gibson, Co E, 61st Regiment use shell crater for foxhole, near Cunel, Meuse, France.

(RIGHT) Unidentified soldier on alert in well used trench.


Early in June 1918 the 5th Division was deemed ready for combat and order to relieve the French 70th Division starting on the 11th of June. The relief was completed on the 14th of June 1918. The 61st Regiment now occupied a portion of the front in the Anould Sector and began to learn the way of life in the trenches. These trenches stretched for miles, on both the German and French sides. They had been occupied for a number of years and in many places were infested with rats and other vermin. Drainage was poor and mud was everywhere. Walls of the trenches often collapsed and required constant maintenance. The trenches added a new phrase to the US soldiers language: Trench Foot. Constant immersion in water and poor hygiene, no dry socks or boots were available, led to a rotting of the skin and this was followed by infection. Trench foot caused more causalities than German action for the newly arrived troops.